Looking to the future while respecting the past
The Casale Monferrato area extends all the way to north-east Piedmont with its hills ending in the Po river. Picturesque and characteristic villages just like Vignale Monferrato are located in this lovely area. It is the land of Barbera and Grignolino.

Monferrato's morphology is mainly hilly. The land goes back to the Tertiary age, when it emerged from the sea that occupied the Po Valley. They are composed of sandstone and calcareous marl of the Miocene, the so-called "white lands" in which it is easy to find fossil shells.
They are the typical marly calcareous soils; of light colour, poor in organic and mineral substances but rich in calcium carbonate, clay, and rock in depth. The soil is particularly suited to grow the vine due to its characteristics and it gives full-bodied wines, rich in color, and with the potential to fine age.
In the tuffaceous zones, winegrowers have been using the subsoil for centuries to dig cellars, called "infernot", where it is possible to naturally store wine bottles at the right temperature.
Today, infernots are recognized by UNESCO as World Heritage Site of Humanity.
Come visit our infernots:
Ca'Cima is located in the municipality of Vignale Monferrato, with a vineyard area of 25 hectares (around 62 acres). The goal is to produce wines that are strongly linked to the territory. The management of our vineyards is respectful to the land and to the environment.
Grapes: from our own vineyards.
Pruning: Guyot in accordance with tradition.
Thinning: in August with selection of the best bunches.
Harvest: hand-picked in September-October.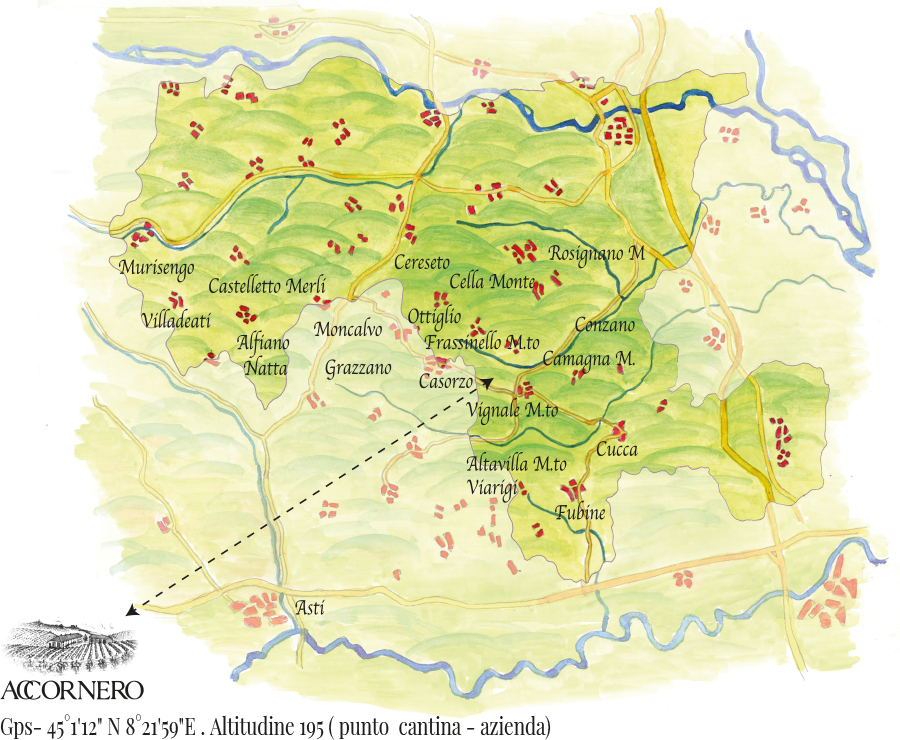 The values we believe in and live by every day
Look to the future while respecting our past
Taking care of our vineyards, day after day
The one of the worker, by themselves or in a team
Exceptional, its characteristics are able to give life to unique wines
To make a fine wine, forget the haste
We have the task and the obligation to pass on our values